---
Our management team represents a lot of history, and a passionate eye on the future. The HMG Hospitality team includes a diverse group of hotel professionals with an array of both domestic and international expertise. Many of our team members received formal training and education from renowned hospitality programs such as the Cornell School of Hotel Administration, Swiss Hotel School, Ecole Hotelière Lausanne, and University of Nevada Las Vegas. HMG Hospitality prides itself on recruiting from the top tier of hotel professionals as many current team members have served in executive positions with hotel associations, as well as, convention and visitors bureaus.
---
---
Charles W. "Jack" Giacomini, C.H.A., Chairman
---
Jack Giacomini is the Founder and Chair of Hotel Managers Group, LLC (HMG Hotels), now HMG Hospitality. He is an accomplished third generation hotelier with extensive experience and a strong national reputation as a successful hotel operator. He has held executive positions with the Hilton Hotels Corporation, was a Senior Vice President of Atlas Hotels, and General Manager of the 1,000 room Town and Country Resort and Convention Center in San Diego. Jack's area of expertise focuses on new projects, development and owner relations.
---
---
Jim is a Senior Hotel Executive with over 35 years of Hotel, Tourism and Marketing Management Leadership. He has opened new construction Hotels, managed major reimagining and repositioning of major hotel assets in both the Western United States and Los Cabos, Mexico. He has served as General Manager, Division Manager, and Executive Vice President/COO for regional hospitality companies. Jim is responsible for up to 1,100 associates and nearly $70,000,000 in annual revenues. He continues to be actively engaged in local and national tourism promotion serving on the Board of Directors of the San Diego Tourism Authority (formerly San Diego Convention and Visitors Bureau) since 1992, Executive Committee member, Chair of the Audit Committee, Treasurer, Chair of both the Sales and Marketing Committees, Vice Chair of the Board and Chairperson of the Board. Since 1993, has served as President of the Mission Valley Tourism Council, representing the second largest concentration of hotel rooms in San Diego. Past Board member of the San Diego Hotel Motel Association and past Board member of the San Diego State Aztec Athletic Association. Past consultant to both the San Diego Tourism Authority and the San Diego Tourism Marketing District, (SDTMD).
---
Michele Demayo, C.H.A., Executive Vice President
---
Having established herself early on in her career, Ms. DeMayo is a veteran hotel manager and administrator. Michele has authored white pages for operational standards that are still in use today in a major hotel chain. A highly respected, well-educated and multi-cultural executive, Michele received her Masters of Science at the College of Hotel Administration, University of Nevada, Las Vegas, after studies at the Swiss Hotel School, Ecole Hotelière Lausanne. Michele is responsible for operations including Human Resources, Accounting, Risk Management, Transition Management and Employee Training. Michele is also responsible for all local, state and national compliance standards for all HMG Hotels and assets.
---
Ruth Ormsby, Vice President of Development
---
Ruth Ormsby brings 25+ years of hospitality experience to HMG Hospitality. Since graduating from Cornell University School of Hotel Administration with a Master in Professional Studies, she has directed business development programs for major national and international companies, including Regent International, Carlson Rezidor Hotel Group, Choice Hotels, Red Roof Inns, and Holiday Inns, Inc., now a subsidiary of InterContinental Hotels Group. Ormsby has spearheaded company growth through franchise contracts, management contracts, joint ventures, and real estate acquisitions. For five of the past eight years, she raked among the top two revenue producers for Carlson Rezidor Hotel Group. During her time with Red Roof Inns, Ormsby implemented and oversaw the company's new national franchise sales strategy, resulting in 90 franchises sold in 18 months. The tremendous value created by this franchise program was the impetus behind Red Roof Inns being acquired by Accor from Morgan Stanley in 1999.
---
Mark Yunker, Vice President of Operations
---
---
Brad Vogel, Director of Revenue Marketing
---
Brad Vogel's 15 year career in hospitality spans a vast variety of both operational and revenue generating roles. Brad graduated with a degree in business administration from Coastal Carolina University in 2003. He went on to intern with both Wyndham and Hilton Hotels in operational hotel management. Throughout his career, Brad has proven successful while working for both large brands and independent companies. His experience with corporations such as Atlas Hotels, Kimpton Hotels and Hotel Managers Group, combined with a solid background in residential real estate investment, has provided a track record of incrementally increasing profitability through rate, occupancy, and ancillary revenue streams.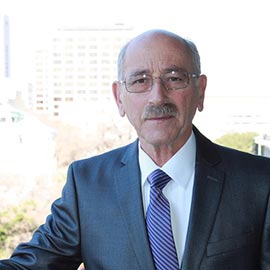 ---
Mike Palmieri, Director of Compliance
---
---
Joseph Zarrahy, Task Force General Manager
---
Joe has demonstrated talent for management of hotel operations. He has had significant interaction with clients, guests and employees. His skills include growth strategies, conscientious application of standards, policies and systems, budget and financial management, staff selection, training programs and community relations. Joe has an extensive hotel sales background after serving over fifteen years with Sheraton in numerous sales positions. He has also filled the position of General Manager for full-service hotels including Sheraton and Crowne Plaza. Joe has experience with pre-openings and repositioning hotels. He is very active in the community as a member of Rotary, Bell Gardens Human Services Association Board Member and the Sister City Program for the City of Commerce.